D

OEHRING,

W

INDERS

&

C

O. LLP




Certified Public Accountants



DOEHRING, WINDERS & CO. LLP NAMED
EFFINGHAM COUNTY CHAMBER OF COMMERCE MEMBER OF THE MONTH (January 2015)!
<![if !vml]>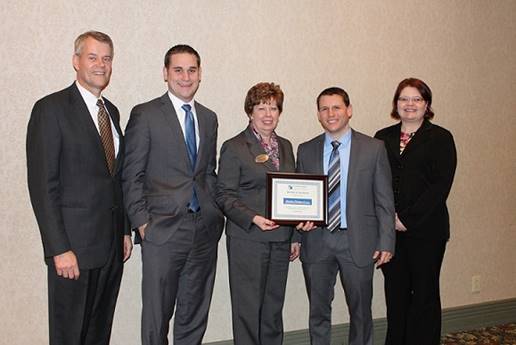 <![endif]>
Left to Right: Steve Wente, Brent Esker, Norma Lansing (President, Effingham County Chamber of Commerce),
Matt Cekander, Racheal Sudkamp
<![if !vml]>

<![endif]>
FOR IMMEDIATE RELEASE
Becky Brown, Effingham County Chamber of Commerce
217-342-4147, January 15, 2015
JANUARY MEMBER OF THE MONTH RECIPIENT RECOGNIZED
The Effingham County Chamber of Commerce recently recognized Doehring, Winders & Co. LLP, CPA's as the January Chamber Member of the Month.
For 60 years, the Firm has been serving business and individuals in Central Illinois by providing auditing, accounting, management consulting, taxation and bookkeeping services. They typically focus on family-owned businesses, providing assistance with their tax planning and financial review needs.
The Firm's early roots are in Mattoon, where they opened for business in 1955 and they expanded with the opening of their Effingham office in 2012, which is located at 405 South Banker Street and managed by Partner Matt Cekander.
The 21 team members of Doehring, Winders & Co. LLP are active in their communities as well as their business, donating time as a CEO Class mentor, hosting graduate assistants from Eastern Illinois University's accounting classes, providing pro-bono services to the Southeastern Illinois Community Foundation and involvement in organizations such as Rotary, YBNext and the Chamber.
The Firm received the Business Ethics and Social Involvement Award, Founders Club membership in Lake Land College Foundation and an Award of Excellence from Eastern Illinois University. They have also received Peer Review Recognition for their quality control from the American Institute of Certified Public Accountants. Recently, the company was recognized as a Platinum Sponsor of the American Cancer Society for raising over $22,000 for the Coles County Relay for Life in the past ten years.
As a recipient of the Member of the Month award, businesses receive a framed certificate for permanent display and will be recognized at the Chamber's 2016 Annual Business Recognition Gala. In addition, each recipient of the award is entitled to a link to its website from the Chamber's home page, www.effinghamcountychamber.com.